Saint Petersburg, Fl
(727) ???-???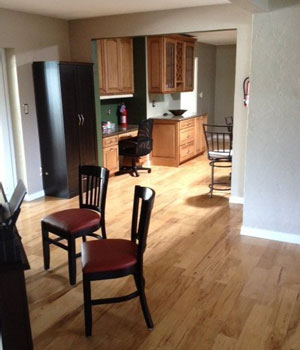 This brand new behavior focus home in the heart of Pinellas county has just opened. The current home can serve 6 clients . It is License through the Agency for Persons with Disabilities .Please call for an interview if you have a client who may be interested.This 4 bedroom 2 1/2 bath home features a enclosed pool area with privacy fence. It is unlike any other. The facility is located near 66th St. and 26th Ave. N, in St. Petersburg in a beautiful neighborhood that anyone would be glad to call home. The physical address is 2737 65th Way N, St. Petersburg, Fl 33710
Services We Provide
Residential Habilitation
Companion
Respite
In Home Supports
Personal Care Assistance
Behavior Analysis Services
Transportation
Areas Served
District 23- Suncoast Region
Waivers Served
Home & Community Based
iBudget Florida
Private Pay
Contact Information
Niece Jochims
Co-Director/Co-Owner
Adult Care Housing
Angels Heaven Group Home
Office Phone Number: (727)???-????
Renee Albert
Co-Director/Co-Owner
Angels Heaven Group Home
Cell Phone Number: (727) ???-????
Fax Number (727) ???-????
Group Home (727) ???-????
2737 65th Way North
Saint Petersburg, Fl 33710
Email: bjoc8888@aol.com
Email: rthalbert@yahoo.com
Website:

Program Curriculum:
Include but are not limited to the following areas:
Outdoors: gardening, swimming, such activities may include: Community Personal Business – Post Office; Public Transportation; Library Use Community Safety – Street Safety; Tours of Police and Fire Stations; Weather Precautions; Stranger Safety
Adult Daily Living Skills
Family and Relations
Earth Care
Consumer Education-buyer beware
Housing
Health and Wellness
Nutrition
Employment opportunities
Self esteem
Your Rights
Personal Outcome Measures
Community Recreation, Leisure and Participation - Community Recreation Center (Arts and Crafts, Dancing, Sports, etc.)
Community Education Classes (Computers, Reading, Math, etc.)
Community Organization or Club Participation (Civic, Athletic, Religious or Interest Based)
Community Exercise Facilities (YWCA/YMCA, Recreation Centers, Private Fitness Centers)
Volunteering (Senior Centers, Suncoast Seabird Sanctuary, etc.)
Community Recreational Gatherings (Concerts, Art Festivals, Holiday Celebrations, Parks, Beaches, Theme Parks, Bingo, Flea Markets, etc.)
Socializing with Friends in the Community (Parties, Games, etc.)
This is a list of annual events in the home: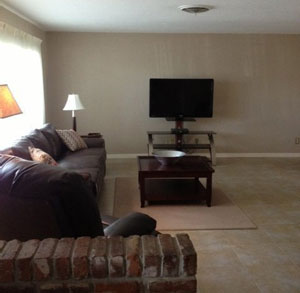 Christmas Party
Birthday Parties for clients
Individual Birthday dinners
Thanksgiving Dinner
Easter Dinner
Christmas Dinner
Christmas Dance
Christmas Eve and Day events
Bi-monthly dances
Arts and Craft fair
Bead Class
Acting Class
Swimming year around
Boat rides
And Much More……
Co-Directors
Niece Jochims: Niece currently owns and operates a women's home located in St. Petersburg, She is co-director and co-owner of 2 Men's behavior focus homes located in St. Petersburg and Seminole and is expanding services to provide another behavior focus home. She has been directly involved with people with disabilities her entire life. She has a sister with disabilities who resides with her other family members in a small town in Iowa. Niece started her first home in 2002 and actually has the same residence since her inception of her first home. Niece and her staff have an exceptional reputation for the care with people with disabilities.
Renee Albert: Ruth "Renee" Albert born in Saint Petersburg, Florida is a co-owner of Angels Heaven Group Home with Niece Jochims. Renee brings over 35 years of experience working in the fields of medical, management and mental health. Renee has been a manager for a behavior focus home for 4 years. She has direct care and management skills to assure quality assurance and APD guidelines are met and practiced. She has outstanding skills directly related to each client. Her empathy and understanding for the needs of each client are remarkable. Her expertise with clients and behavior plans are demonstrated by her ability to deescalate and determine if antecedents are present. Her management skills are directly related to her long term staff she presently works with . Renee not only overseas her current home but currently trains and implements policy and procedures within our organization, provides support for new Del Marva requirements, and monitors all staffing requirements for existing staff.
What Parents are saying:
My daughter is mentally challenged and has been a client in a group home in St. Petersburg, Fl. The group home is owned and operated by Niece Jochims, who I have great respect for. Niece has very high standards for her homes and clients. She has been very happy in this setting and my husband and I have nothing but the best to say for her and her staff. She is 42 years old and we have always been very involved in her care and her life. We would not have anything but the best for her and we can say without exception that Niece has the best interests of her clients at heart...she treats them as her 'family'. That is very special. Please if you have any questions please contact Niece and she will give you our phone number. Parents, Terri and Kevin O'Donnell
My Son has been living in their behavior focus home for now 5 years. He has done an outstanding job developing skills to eventually allow him to be independent in the community. I have been pleased with his care and would recommend parents and supports to choose this new home. If you would like to contact me directly please tell Niece or Renee and they will forward your number to me. Parents , Denise and Wayne Eberius
Our daughter, Daniella, has lived in Niece Jochims group homes for the past 12 years. She receives excellent care and has lots of activities and socialization. I would recommend these group home    to any prospective families looking for good quality care for their family member. Feel free to call me for any additional information. Sandra Kattan (561) ???-????
Provider #684228396/684228301