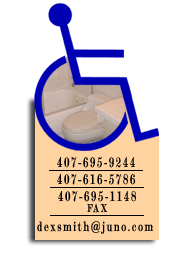 Florida
(407) 695-9244
Services We Provide
Environmental Accessibility Adaptations
Areas Served
Waivers Served
Home & Community Based Services Waiver (Big Waiver)
Florida Supported Living Waiver (Little Waiver)
The firm will handle the following different evaluations and assessments.
Patrica Smith is an ATP (Assistive Technology Practitioner) certified by RESNA (Rehabilitation Engineering Society of North America), which is a general requirement for Medicaid Waiver.
Don's assistant, Patricia Smith, is an RN who has extensive experience with pediatrics, home health, and brain and spinal injury patients.
If you have any questions about the services that we provide, please feel free to contact our office. We look forward to working with you and your clients.
Medicaid Waiver environmental modification assessments. Code S5165
Life Care Planning for permanently injured person.
Expert witness on ADA standards and Life Care Plans
The following is a description of the services that we provide under the environmental modifications service code S5165.
We will see the client within two weeks after receiving the authorization and have the assessment to you within four weeks after seeing the client.
Our services (for 10 hours) include:

Complete in home assessment

Full detailed report covering medical necessity

To scale drawings. Several different options, when possible, are provided for the family to decide on.

Detailed specifications

Extra set of drawings for the family to look over. If the family is not happy with the drawings and recommendations, we work with them until they are satisfied.

We fax the drawings and specifications to at least three local contractors to get the quotes for you.

We provide the name and phone number of at least one DME vendor that can supply any of the equipment that we recommend.

Should a ceiling lift be recommended, we fax to at least three ceiling lift vendors for them to quote.

We have no minimum number of clients that we will see before agreeing to come to your district.

We will see the client within two weeks of receiving the authorization.

We will have the report, drawings and specifications back to you within two weeks of seeing the client.
Our services (for 6 hours) include: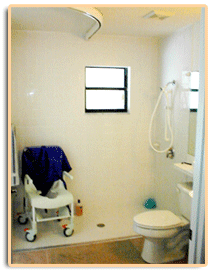 Another service that we provide
(for 6 hours)

is project management:
We meet with the contractor and the client and their family for a pre-construction meeting.

We make several visits to the home while the work is in progress to insure that proper materials are being used, construction is going as planned and the family is happy with the way things are progressing.

We do a final inspection to insure that all work is completed and the family and client are satisfied with the work.

A summary report will be written and sent to the support coordinator at that time.

We are available to answer questions and work out any problems that may arise during construction.
We also do vehicle modification assessments (for 6 hours):
We will meet with the client to advise them when they are purchasing a new vehicle or evaluate their existing vehicle.

We will write specifications for the vehicle modification.

We will request quotes from al least three med waiver vendors who are qualified to do the required vehicle modifications.

We will meet with the client and vendor when the modifications are completed for a final inspection.

A summary report will be written and sent to the support coordinator at that time.
PATRICIA L. SMITH RN
Graduated from RN school with honors
Nursing background includes:

Five years in pediatrics.

Five years in neonatal and neonatal ICU.

Three years in outpatient surgery.

Ten years in home health.

Three years in brain and spinal cord injuries and rehabilitation nursing.
Private consultant for the Medicaid Waiver program for the past three years.
Private consultant doing work for personal injury attorneys as an expert witness and as a consultant on product safety, environmental safety and accessibility issues.
LIFE CARE PLANNING
Complete assessments including the following major categories:
Personal care needs

Accessible housing

Durable medical equipment

Transportation including vehicle assessment for transport only and for driving

Physical, occupational and speech therapy

Cost projection
Life Care Plan Implementation:
Design, do drawings and specifications for home modifications

Construction project management

Coordination of specialized services for personal caregivers and therapists

Coordination of services for vehicle modification

Contact Information

Don Smith Rehabilitation Engineering, Inc
Donald Smith, Rehabilitation Engineer
120 E. Tradewinds Rd City: Winter Springs State: FL Zip: 32708
Phone: 407-695-9244
Fax: 407-695-1148
Phone Mobile: 407-616-5786
E-Mail: dexsmith@juno.com